---
24th ANNUAL POTAWATOMI TRAILS POW WOW AUGUST 26 & 27 — SHILOH PARK
The Potawatomi Trails Pow-Wow, the only event of its kind in this area, is a celebration of Native-American heritage. Its purpose is not only to celebrate this heritage, but also to heighten public awareness of Native- American history, traditions, and customs. Specific activities will include demonstrations, music and dance presentations, educational sessions and a trader area.
---
69th ANNUAL JUBILEE DAYS FESTIVAL SEPTEMBER 2-4
Zion's Labor Day Festival, features community wide activities, including a Queen's Pageant, Concerts, Illinois' largest Labor Day Parade, Fireworks and many more events and attractions! The theme this year is "Happiness is …" Please visit zionjubileedays.com for additional information.
WATCH FOR FURTHER DETAILS AND SCHEDULE OF EVENTS.
JUBILEE DAYS RUN
Zion Park District is sponsoring a 5K and 10K race on Saturday, September 2, 2017 during the Jubilee Days Festival at 8:00 am. The 10K route will follow the 5K course twice. Walkers are welcome to participate in the 5K. T-shirt and goodie bags are guaranteed to the first 200 who register by August 14, 2017. Entry forms are available at the Park District office or register online at www.ZionParkDistrict.com.
5K Code: 616066-1 Fees: $30.00 Adult
$5.00 off early registration (before 8/14/17)
5K Code: 616066-2 Fees: $25.00 Students 18 and younger
$5.00 off early registration (before 8/14/17)
10K Code: 616067-1 Fees: $40.00 Adult
$5.00 off early registration (before 8/14/17)
10K Code: 616067-2 Fees: $35.00 Students 18 and younger
$5.00 off early registration (before 8/14/17)
OUTDOOR FAMILY CONCERT AND FIREWORKS – SEPTEMBER 3
FullScore Chamber Orchestra, in conjunction with the Jubilee Days Festival, will perform at the Zion Band Shell in a concert entitled "Orchestral Jubilee!" featuring musical selections by various composers written for special celebratory occasions. You'll instantly recognize all of the selections played during what promises to be a very enjoyable evening. FullScore Chamber Orchestra always presents a lively family friendly concert to help Zion celebrate Labor Day weekend. The concert is at 6:30 pm followed by annual Jubilee Days fireworks display.
You can bring picnics, blankets and chairs, and your friends to sit under the beautiful late summer sky. The concert is free – underwritten by Jubilee Days Committee and the Zion Park District. FullScore Chamber Orchestra is a non-profit arts group. Ron Arden – Artistic Director
JUBILEE DAYS PAGEANT
2017 Jubilee Days Pageant Information and Application AVAILABLE HERE (.pdf)
JUBILEE DAYS ARTS & CRAFTS FESTIVAL
The festival will be held in conjunction with the Zion Labor Day Festival on Monday, September 4 from 10:00 am to 6:00 pm. If you are interested in displaying your work, registration forms are available at the Zion Park District Leisure Center office. Please call 847-746-5500 for additional information.
JUBILEE DAYS PARADE – Monday, September 4th at 1:00pm
The Parade steps off from Shiloh Blvd. (25 Street) and Emmaus Avenue, and heads north to 23rd Street. It then turns East on 23rd to Sheridan Road and will proceed South on Sheridan, ending at 29th Street.
SENIOR CITIZEN PICNIC – SEPTEMBER 6, 2017
Join us for our annual senior citizen picnic. Fun will be had by all! Multiple game choices including an all-time favorite, dominos! Best of all, there will be lots of food and beverages. There will be hotdogs, cheeseburgers, and countless side dishes. The picnic will be held at Van Patten Woods located in Wadsworth, on Septmeber 6, at 10am. Contact Kevin Zaleski at 847-746-5500 Ext. 444 for additional information.
ADOPT-A-BEACH EVENT – SATURDAY, SEPTEMBER 16
Volunteer for the annual Adopt-a-Beach event. Bring your family, friends, or organization to pick up trash and record what you find. Your help protects your Great Lakes. Contact Kay Petersen at 847-746-5500 Ext. 426 for additional information. You can make your Great Lakes healthier.
Time: 9:00 am to 11:00 am
Location: Hosah Park, 25th & Lake Front
WOMEN'S SAFETY SEMINAR
Zion Police Department and Zion Park District present this seminar which educates women on how to best avoid becoming a victim of a violent assault. Realistic tactics and techniques to escape such and assault are taught. Zion Police Department will present a powerful program to help you be aware, with practical hands-on self defense moves. All participants will receive a personal whistle. Pre-registration is required.
Code:310429-1
When: Monday, October 16
Time: 6:30-8:30 pm
Location: Zion Park District Leisure Center, Room 3 & 4
Fee: $6.00 each or $10 for two
TRAIL OF TREATS – FRIDAY, OCTOBER 27
Trail of Treats is a fun community event organized by Lakeshore Chamber of Commerce, the City of Zion and the Zion Park District. Kids will trick or treat through Shiloh Park starting at the 27th Street tennis courts and ending at the Leisure Center for a Halloween Party hosted by Zion Park District.
Event starts at 5:00 pm.
HALLOWEEN FEST – FRIDAY, OCTOBER 27
Join us for our Halloween Fest at the Zion Park District Leisure Center! There will be a variety of fun fair games with candy, toy prizes, face painting, a hay ride and a bouncing chamber. Wear your best costume for the costume contest.
A schedule of the evening's activity includes:
5:30 – 7:30 pm – Face Painting, Gym Games, Pumpkin Jump, Hayride, Haunted Maze
7:30 pm – Costume Judging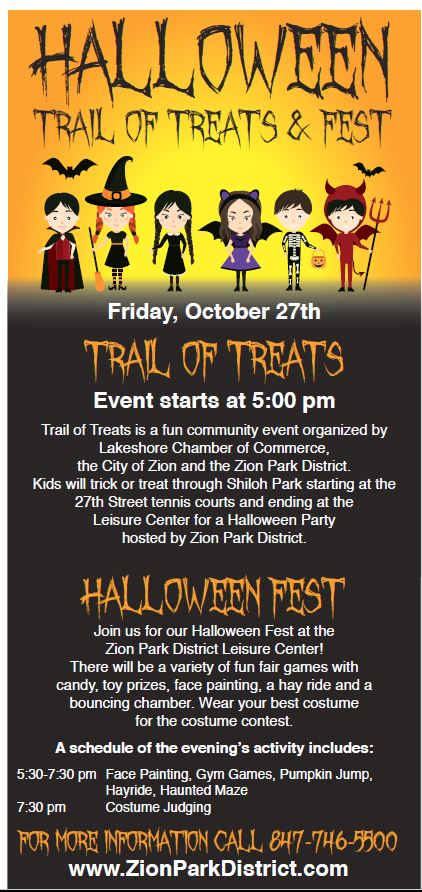 28TH ANNUAL BLACK HISTORY PROGRAM SATURDAY, FEBURARY 24, 2018
Come out, bring the family and join in on the fun! Singing, dancing, guest speakers and poetry! Be a part of something great. A celebration the entire family will enjoy. Dinner will be served after the program.
If you or your church choir would like to be a part of our program please contact: David B. Osborne Sr. at 847-749-5919 by January 1, 2018.
Location: Zion-Benton Township High School (Horizon Campus) – South Cafeteria, One Z-B Way
FREE!